The list of things I enjoy about motorcycling seems without end. From simply looking at motorcycles, talking about motorcycles, reading motorcycle magazines and websites, day to day riding, building, racing, traveling and of course the friends you make and keep in the motorcycle community. I have friends that race, travel, only ride on weekends, friends that like to ride in groups, friends in Moto-Journalism, it's all over the place.  But, I will say Moto Traveling is at the top of the list.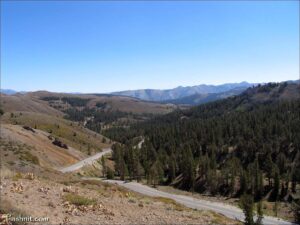 The past couple of years, my friend and traveling buddy Les and I have covered thousands and thousands of miles in the Southwest. We've ridden in every kind of weather, seen National Parks and Monuments, miles and miles of nothing but open spaces. We've attended rally's, bought too many t-shirts and made new friends. It is a great way to see and feel everything around you.
Ok, so much for that…the title of this page is "Looking Forward", so what am I looking forward to? This summers trip. Les and I decided that we've seen a whole lot of the Southwest now, let's go somewhere different. The West Coast. Here we have everything from deserts to mountains to the sea, we are lucky here. What we are going to focus on are the mountains. The Sierra Passes to be more exact.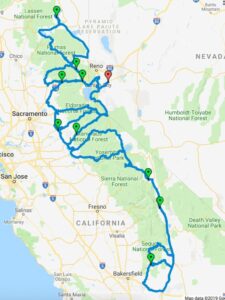 I have criss-crossed those passes on everything from a Honda CB350, a Kawasaki H2 750, a Triumph T100R, Yamaha TDM850, BMW R90s, Ducati Darmah…hell, I think I can ride most of those passes blindfolded on my Daytona…well, maybe not. The point here is this is the ride I am looking forward to this year with my friend Les. If only he could ride as fast as me..well, he's on a Harley, he'll do the best he can…Just kidding…..That's another story…from somewhere in the middle of Wyoming.