March 23, 2014
Media Day at the Progressive Insurance International Motorcycle Show. Interviews with Laura Klock of Klock Werks Kustoms, Scott Hardin of Zero Motorcycles, and custom painter Skratch. News from the Isle of Man and interesting statistics from the NHTSA — How many riders are out there? An HJC product review.

March 5, 2014 
This episode of The Motoworld features an interview with my long time racing friend and his adventure racing a vintage Norton on the Isle of Man this past summer. MotoNews from Kevin Schwantz, Indian motorcycles, the Motorcycle Cannonball Endurance Run, and a review of the Pet Palace for riding with your four-legged friend.

December 24, 2012 
Another great day at the Long Beach Motorcycle Show. Time with custom legend Arlen Ness, MotoGP pilot Nicky Hayden, and Crocker Motorcycles.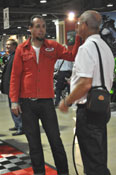 December 5, 2012 
MotoGP riders trading 2 for 4 wheels, musical chairs in WSBK,
interviews w/ Ari Henning of Motorcyclist magazine and custom builder and painter Skratch.



August 2, 2012 
Interview with custom bike builder and racer Roland Sands. He brought his friend Andy Bell from Nirto Circus. MotoNews from MotoGP, World Superbike and electric motorcycles going fast.



July 10, 2012 
MotoNews from Ducati, MotoGP, Valentino Rossi, and Nicky Hayden. The Ride Safe, Think Fast seminar by AMA Superbike Champion and Class School founder Reg Pridmore. And the AMA is on our side yet again. Interview with MotoGP photographer Scott Jones

December 9, 2010 
art 2 of our interview with Roadracing World's John Ulrich. MotoNews from Harley Davidson and the Progressive Insurance International Motorcycle Shows; Bicycle racer (?) Ben Bostrom; 2011 AMA Vintage Motorcycle days; the NTSB – your government is looking out for you (?); Valentino Rossi and his car racing future; and AMA Monster Energy SuperCross is coming to a very famous landmark in Southern California in January. We finish up this edition with a story about the legendary LA Barstow to Vegas Dual Sport Ride.

October 18, 2010 
Interview time with John Ulrich, motorcycle racer and publisher of Roadracing World Magazine. MotoNews from MotoGP, Jay Leno's new uber tourer, Enfield motorcycles finally find their way to California, and all you fans of cafe racers now have a chance to be on TV!! We finish the program with some good travel info – if you can head to the west coast.

November 12, 2010 
The Cretins motorcycle club host the first annual L. A. Moto Film Fest. Interview with Mark Duncan, the creator//founder and visionary. MotoNews from Harley Davidson, The Love Ride, and Hyosung motorcycles of Korea. It's a quick show we call MotoShorts.

September 2, 2010 
Interviews with World Superbike riders Carlos Checa, Jonathon Rea, Tom Sykes, Chris Vermeulen, and Leon Haslam. MotoNews from the AMA – your government wants to take some of your riding fun away; Apple wants to give you some fun back; and the greatest road race in the world is back on TV and in HD, no less! We wind up the program with some end of the season travel tips.

July 30, 2010 
Interview with champion racer and international broadcaster Dennis Noyes. Great insights into Moto Grand Prix racing and a great story of his own. MotoNews from Riders for Health and a very successful fundraiser at the USGP; Harley Davidson is upping the ooh aah factor for 2011 with three new models; news from the AMA about how to find out if your elected representative really represents you, the motorcyclist; and lastly, the MIC has some interesting news about the state of the motorcycle business.

July 19, 2010 
Interview time with Speed TV's commentator Ralph Shaheen. MotoNews from Fiat Yamaha MotoGP; how to win tickets to a special VIP package from Superbike Planet; entertainment news from the Sturgis Rally in South Dakota; an opportunity for you to interview world champion racers at the Red Bull US Grand Prix at Mazda Raceway. And if you live in California, you may need to have to get your motorcycle smog checked in the future.

July 7, 2010 
Interview with world traveler, author, photographer, and philanthropist Neale Bayle. MotoNews from Ducati, Honda, Yamaha, and where is Valentino Rossi going?? They're all tied together. Do you need / want a fast Super Tourer? Time to look to Germany. and in product reviews, pain prevention and relief – this stuff works.

June 28, 2010 
Interview with Scott Russell, Mr. Daytona and Speed TV broadcaster. MotoNews from Harley Davidson; The Doctor, Valentino Rossi; the AMA Hall of Fame; and Yamaha road racer Melissa Perris. A good tour in Northern California if you like fast, twisty roads, good food, and a cold beer at the end of the day.

June 6, 2010 
In this edition of the MotoWorld, we have a good sit down with Dean Adams of SUPERBIKEPLANET.com. Dean has a great story to tell and makes this one of the more interesting interviews we have ever had.

May 25, 2010 
Interviews with roadracing, super moto, and flat track racer, Tyler O'Hara, and custom motorcycle builder, Sucker Punch Sally. MotoNews from the TTXGP, the AMA, BMW, and more.



April 30, 2010 
Racer interviews with Danny Eslick, Larry Pegram and Rich Alexander. Harley Davidson's Women Riders Month; Captain Kirk selling off the Enterprise; the GHSA report on motorcycle related deaths – that actually has good news in it! A new question of the week and listener comments.

April 20, 2010 
The snow is almost gone, the rain has almost stopped and we need to go for a ride. BMW Master Technician Howard Rantz helps you get your motorcycle ready for the riding season. Where can you get a Bad Brake Steak or Possum Pot Pie? Only in Seligman, AZ.

April 6, 2010 
Interview time with Superbike pilot John Hopkins returning to the USA after years in the MotoGP wars. Then time with 16 year old speedster, Elena Meyers, one very fast young lady. MotoNews from Jordan Suzuki's Aaron Yates, MotoGP Champion Valentino Rossi joining the 21st century, the USO is back on the road to entertain the troops abroad, and the World Championship MotoCross series is coming back to the USA after a long time away

March 29, 2010 
Interview time with Dave Williams, head of On The Throttle TV. MotoNews from Harley Davidson . . . I'll bet we all wish we were the CEO! AMA Pro Racing has some good news, and our buddy Garry McCoy is back in MotoGP.



March 18, 2010 
Interview time with AMA Superbike pilot and Roadracing World Magazine journalist Chris Ulrich. MotoNews from Harley Davidson and the Garage Parties. Then coming up, the International Female Ride Day. A new race course in Southern California, and if you're an off road rider, there is news out of Colorado of interest.

March 12, 2010 
Interview time with Moto Retro Illustrated publisher and racer Mitch Boehm. MotoNews from Daytona Bike Week, Harley Davidson, Honda bringing back a classic, and more.

March 2, 2010 
More from Auto Club Speedway. Interview time with John Ulrich of Roadracing World Magazine and head honcho of M4 Monster Energy Suzuki Roadracing. Then the brake guru himself, Sandro Milesi of Galfer Braking Systems. MotoNews from Yamaha, Suzuki, Cal Trans, and Daytona Bike Week.

February 23, 2010 
Day two at Auto Club Speedway in Fontana, CA. No rain, riders getting more confortable and faster. Interviews with the Rockstar, Makita, Yoshimura rider Blake Young and his mechanic James, and coach, mentor, former world champion Kevin Schwantz. A few minutes with up and coming Taylor Knapp.

February 11, 2010 
Two days of testing at Auto Club Speedway with the young guns of Graves Yamaha, Josh Herrin, Tommy Aquino, Benny Solis, and Josh Hayes. MotoNews from Harley Davidson and the MDA, the Motorcycle Safety Foundation, and AMA Pro Racing.


January 12, 2010 


The Motoworld interview with John Burns of Cycle World Magazine. MotoNews from Harley Davidson, AMA Pro Racing and World Superbike. The best winter project you can do with your motorcycle and a room full of maps.




December 28, 2009 
An inspiring interview with Howell Tumlin of Riders for Health, a program in Africa that brings medical aid to remote villages via motorcycles. MotoNews from MotoGP, World Superbike, and the Dakar Rally. Lastly, answers to the question of the week, "What is your winter motorcycle project?"

December 18, 2009 
We all have to have insurance on our bikes, but what we need to cover more than the bike is our butts! Interview with Progressive insurance, and then a good time with Mark Blackwell of Victory Motorcycles. MotoNews from Harley Davidson, AMA Pro Racing, Kawasaki Racing and seven-time AMA Superbike Champion Mat Mladin.

December 12, 2009 
A day at the Cycle World International Motorcycle Show. Interviews with Norton Motorcycle's CEO Stuart Garner. What's new at Yamaha with Kevin Foley and Tim Olsen. MotoNews from Harley Davidson, Vespa, and California Superbike School.



December 2, 2009 
We all go through the mags and read the road test of new bikes. But how do they actually test the bikes and gather opinions? Our interview with Bill Stermer of Rider Magazine gives us the inside scoop on road testing. MotoNews from Harley Davidson dipping their cup into the government bailout well, and one Big 4 bike manufacturer is not happy with a $139 million dollar profit for six months?

November 19, 2009 
How to become a motorcycle travel writer – interview with Friction Zone Magazine travel editor Kate Edwards. MotoNews from BMW, somthing new and big is coming. Good news for US Motocross fans and MotoGP fans; results and stories from NHRA Drag Racing and some sad news from a great custom bike builder, but you can help make thing better.

November 4, 2009 
The AMA Grand National Flat Track season finale and we have great interviews – a former champion, the current champion, the future champion, the fastest man on two wheels, and the legendary Bill Werner, tuner to the steel show gods.



October 22, 2009 
Interview with Zero Gravity Racing and head honcho Glenn Cook. MotoNews from Harley Davidson and Buell – the love affair is over. The Motorcycle Safety Foundation weighs in on a federal study; how about a weekend at a great hotel; and a Harley to cruise around on. Travel stories of where you would go on your motorcycle if you had a month off.

October 14, 2009 
MotoNews from the 26th annual "Love Ride." The MotoCross Des Nations, loud motorcycles and what the AMA is doing about it. Is Nissan building a motorcycle? The Godfather of motorcycle stunt riding has a birthday. And Rob Dale's story of his month-long cross country motorcycle ride.

October 7, 2009 
Our interview with Hall of Fame member Don Emde, and his stories and involvement with Riders for Health and the upcoming 26th annual Love Ride. Info about a very cool website dedicated to vintage motorcycles and a couple that are traveling around the world. MotoNews from MotoGP, World Superbike, and a new study being done by the NHTSA about motorcycles on the highways.

September 27, 2009 
More from the BUB Bonneville Motorcycle Speed Trials. The only mother, daughter, daugher family record holders, Team Klock Werks. The 4-time World Speedway Champ tries his hand Land Speed Racing, and who's the fastest man on two wheels? MotoNews from AMA Pro Racing and a very small Italian motorcycle company.

September 18, 2009 
It's back to Bonneville for the BUB Speed Trials. Interviews from the pits and the start line. MotoNews from Honda, Harley, Buell, AMA Racing, and the world of Observed Trials. More info from Riders for Health. A Commentary on a week at Bonneville.



July 14, 2009 
Where do you want to go and what would you ride? Talks with Steve McQueen of MCNation Podcast.com about Dream Bikes and Dream Trips. MotoNews from AM Pro Racing, Kenny Roberts, and Triumph's racing success.



June 24, 2009 
This is a special edition of The Motoworld focusing on "Riders for Health," an incredible organization. We have a good chat with Adam Silver from RFH on big events coming up at MDK Motorsports in Redwood City, CA and at the Red Bull USGP at Mazda Raceway, Laguna Seca. A quick bit of MotoNews from the Cycle World International Motorcycle Shows and their events at the USGP.

June 20, 2009 
An afternoon with Powersports photographer Rich Cox. MotoNews from the AMA, the Pediatric Brain Tumor Foundation, Laconia Bike Week, the Motorcycle Industry Council . . . turns out the government does like motorcycles? Rumor central, who's going from MotoGP to World SuperBike and the reverse.

June 12, 2009 
MotoNews from Royal Enfield Motorcycles, Harley Davidson, The Isle of Man TT, the Ride to Work Day, and Riders for Health. Interviews with the Sultan of Slide, Garry McCoy, Superbike pilot Broc Parkes, and a story of a summer vacation in just 86 hours.

June 5, 2009 
The World Superbike and Supersport racers come to Utah. Interviews with Noriyuki Haga, Troy Corser, Leon Haslam, Karl Muggridge, and Melisa Paris. MotoNews from The Isle of Mann TT and The Dakar Rally.



May 5, 2009 
Visit with Steve McQueen of Motorcycle Nation Podcast who's a Motorcycle Safety Foundation instructor. MotoNews from AMA Pro Racing, a really cool auction of classic bikes, and great news from the AMA and Mid Ohio racetrack. We finish with a quick story from the Corsa Moto Classica Vintage bike races.

April 22, 2009 
MotoNews from AMA Pro Racing; Peter Starr's "Take it to the Limit" movie; Ben Bostrom; Pebble Beach Concours d'Elegance; MotoGP. Part 1 of my interview with Glenn Cook of Zero Gravity Racing, and tools you need for your first road trip of the season.

March 4, 2009 
Rider magazine contributor and author Bill Stermer tells stories of his introduction into motorcycle touring . . . fun stuff. MotoNews from Daytona Bike Week; Kawasaki's Roger Hayden is MIA; the government is doing their best to keep kids off new dirt bikes!! What's up with that? The global economy downturn hits the factories.Get your bike ready for your first spring ride.

February 24, 2009 
Part 2 of Miss Adventuring with author and traveler Carla King. More stories from around the world and some good laughs as well. MotoNews from the World Superbikes in Australia, seems as though birds don't like motorcycles either; AMA racing at Daytona, lot's of changes and some sad news from Miller Motorsports Park in Utah.

February 4, 2009 
Travel with Miss Adventuring, Carla King, world traveler and author. MotoNews from roadracing, motocross, Retro Bike Magazine, and doing a backflip on a kid's tricycle?? A quick Superbowl Sunday ride report and the question of the month.



January 5, 2009 
Surviving the winter blues . . . play video games? Yeah, why not? We review three fun games on this show. MotoNews from MotoGP and Kawasaki, AMA Pro Racing, and the Dakar Rally has moved and is on right now.



December 21, 2008 
Media Day at the motowcycle show. New bikes, new interviews, old and new friends. MotoNews from Aprilia, AMA Pro Racing, Speed TV, and how to go racing on the cheap.

December 15, 2008 
There is nothing better than a good road trip. Listener Chris Sanchirico and I talk about our trips . . . good entertainment. Interesting MotoNews from AMA Pro Racing and Big Red . . . guess who's not going racing???



November 19, 2008
You gotta eat on a road trip, so where do you go? Along with food for your tummy, food for thought. MotoNews from AMA Pro Racing, Vespa Scooters, The Macau Grand Prix, Speed TV, and racer Jessica Zalusky with serious problems after knee surgery. A great interview with Canadian Superbike Champion Jordan Szoke and we finish the show with reports on great road food.

November 6, 2008 
This edition is all news: Nicky Hayden and his new Italian Stallion; Kawasake MotoGP has just lost a legendary team member; racer Roland Sands turned custom bike builder working with kids; Dunlop tires and AMA Pro Racing; and BMW gets naked.



October 24, 2008
From riding a trials bike in a ditch in Houston. Texas to 500cc World Champion to stock car driver to coaching the Red Bull Rookies Cup riders…The MotoWorld interviews Kevin Schwantz. MotoNews from Bridgestone Tires and MotoGP, AMA Pro Racing, Hareley Davidson and AMA racers take on Moab, Utah.
October 15, 2008
Tires and Tech . . . interviews with Jim Allen of Dunlop Tires and Jim Rashon, chief tech inspector for AMA Racing. MotoNews from Moto-ST, the ladies invade Daytona, Haga-San back (?) on a Ducati, and his Airness, Michael Jordan, has joined the Army National Guard.

October 6, 2008
Lot's of speculation in the roadracing world right now. With AMA racing a bit up in the air and a few riders heading to Europe, what's the next AMA season going to look like? A great interview with AMA Supersport Champion Ben Bostrom. MotoNews from Europe, Bonneville and AMA Pro Racing.

September 25, 2008 
What's it like to be the editor of a motorcycle magazine? We talk with Bruce Steever of 2 Wheel Tuner. MotoNews from the scooter world; Aprillia and the Roman Emperor together again; Haga sans leathers up for bid and Fox Sports Network is going to school.

September 10, 2008
Spending time with World Champion Freddie Spencer; MotoNews from Suzuki; AMA Pro Racing; the ladies take over Las Vegas Motor Speedway; Wera roadracing, and the question of the week . . . what's going on inside your helmet?

August 28, 2008
The past few years have seen sportbikes being customized … in wild ways. We talk with the best of the best, Nick of Custom Sportbike Concepts. MotoNews from MotoGP, The Motor Company's birthday bash, and Jerry Lewis … yes, that Jerry Lewis.


AMA Racing & the Riders — What Next? 
August 20, 2008
AMA Pro Racing and the Big Four butting heads. Nicky likes pasta. A great morning with Jake Zemke…what a story this young man has. Question of the week.




August 14, 2008
A morning with the Guru of Cornering, the Godfather of motorcycle riding school, Keith Code. A great interview with a very interesting and fun man. You're going to love it!! MotoNews from Nicky Hayden and the X-Games; Triumph is having an anniversary, and lastly, Red Bull kids.

August 8,2008
The MotoWorld goes MotoCamping. A 1500 mile road trip through the Sierra Nevada Mountains. Product evaluations for cooking, lighting, staying cool, and feeling good. MotoNews from AMA Pro Racing, BMW, Conspiracy Entertainment, and the AMA itself. Question of the week.

July 2, 2008
More from Laguna Seca, interviews with AMA Superbike rider Suzuki's Tommy Haden and Suzuki MotoGP ace Chris Vermuelen. MotoNews from AMA Pro Racing, Piaggio USA and 2009 Mazda Raceway US GP dates. Question of the week to finish the show.



July 25, 2008
Interviews with Yamaha Superbike pilots Eric Bostrom and Jason Di Salvo. Motonews from DMG and Harley Davidson. Going out for pasta again?




June 22, 2008
MotoNews from Harley Davidson, Daytona Motorsports Group, MotoGP at Laguna seca, Road2Recovery auction and answers to "what's the wierdest thing you've ever carried on the back of your bike?"



June 10, 2008
A wrap up of the WSBK and AMA Superbike races at Miller Motorsports in Utah. Interviews with Neil Hodgson, Ben Spies, Miguel Duhamel and Matt Lynn. MotoNews from Suzuki and Harley Davidson.



June 5, 2008
From Miller Motorsports Park in Utah. WSBK and AMA Superbike weekend! Interviews with Troy Bayliss, Miguel Du Hamel and Matt Mladin. MotoNews from Triumph, Pirelli and what it's like to be in the Media Center.



May 23, 2008
MotoNews from Mat Mladin, Suzuki, MotoGP champ Nicky Hayden and Indianaoplis Motorspeedway. My interview with the Stosh Brothers about their new movie, Throttle Days, a Dual Sport Adventure. 



April 26, 2008
From Daytona Motorsports Group, The AMA, Ducati North America, The Moto Concorso and Roger Lee Hayden. An interview with the Crew Chief of Corona Extra Honda from Daytona Motor Speedway.



April 7, 2008
This week..MotoNews from Australia, England, Texas and California..we're all over the place. Interview with one of Ducati's racers from the 60's and upgrading your brakes for the coming riding and racing season.



March 24, 2008
Daytona MotorSpeedway for Bike Week, BIG news from the AMA and Daytona Motorsports Group. A racing update, a really fun interview with my new friend, former Speed TV personality Brian Drebber.



January 29, 2008
An interview with the curator of the Museo Ducati and more.

October 9, 2006
Bonneville Baby!!! Yeah, this show is all about goin' fast..I mean really fast. I spent a week on the salt with a team of LSR lunatics and interviewed even more, including The Land Speed Record holder. It was a great experience and this is a great show.



August 22, 2006
This week it's all about MotoTravelling…camping under the stars or credit card camping..tips, resources, destinations..MotoNews and more.



June 29, 2006
MotoNews from AMA Superbike racers Matt Mladin and Ben Bostrom, a review of MotoGP, the upcoming MotoGP movie DTK, a preview of the MotoCzysz C1 and a cell phone call from Angie Loy during the 6 hour WERA Endurance race in Utah.



May 31, 2006
MotoNews from Valentino Rossi, the Pediatric Brain Tumor Foundation, The USGP at Laguna Seca and the Isle of Mann TT..a great Interview with Glen Heggstad, The Striking Viking about his book, 'Two Wheels Through Terror' and his around the world ride.



June 9, 2006
This week on The MotoWorld..MotoNews from Hollywood, Gatorade/Ducati and The Isle of Mann TT. Part 2 of my interview with Glen Heggstad, author of 2 Wheels Through Terror and 'Round the world Traveler' and my take on how to get ready for your Summer MotoTrip!

May 13, 2006
MotoNews about a very cool contest from Yamaha, the first and only 'Cooler Scooter', the best way to get your scoot home if you breakdown a LONG way from home, a great interview with track day junkie Angie Loyand some info about the roadrace with the biggest attendance of all..that and more!

May 5, 2006
MotoNews from BMW, Triumph and Medical Air Services, an interview with Bill and Laura Mayer of Bill Mayer Custom Saddles and a whole bunch of travel info!

April 23, 2006
MotoNews from Harley Davidson, Yamaha, The US MotoGP at Laguna Seca and the Baja 500. Interviews with Legendary Roadracer and CLASS school founder Reg Pridmore and the organizers of the Ride For Kids Benefit program.

April 14, 2006
From Ducati, a new book about Indian Larry Desmedt, an 'Air Jacket' and his 'Airness' Michael Jordan. Motorcycle insurance info, another great road to ride and… motorcycle hearses?

March 28, 2006
This week we have MotoNews, an interview with a former Ducati factory roadracer and a review of the new BMW R1200GS.




March 16, 2006
This week on The Motoworld, we have motonews from Mickey Mouse, Ducati, The Speed Channel, and Harley Davidson. An interview with a former motorcycle messenger and a great road to ride here in Southern California.



March 5, 2006 
This week we have MotoNews from Ducati, The American Motorcyclist Association, World Superbike, MotoGP and Hollywood! My interview with a very cool MotoMom and travel help from Harley Davidson. The best 30 minutes you can spend without twisting the throttle!



February 22, 2006
Today we have Moto news from the scooter world, Yamaha corporate news, World Superbike preview, part 2 of "Solo to Alaska" and a movie review, "The Worlds Fastest Indian."



January 30, 2006
This week we wrap up the MotoGP test at Sepang, the AMA SuperCross in San Francisco, Harley Davidson and the NHRA, an interview with a man that did a solo ride to Alaska and the Arctic Circle and a review of the Aerostitch seat accessory you should have!


January 24, 2006
this week we talk about the new Buell XBRR production roadracer, MotoGP, AMA & World Superbike testing and AMA Supercross. An interview with Jeff Maxwell about 'on bike' camera's and a product review of Widder 'lectric vests'…




January 13 , 2006
Today we review the Cycle World Intl Motorcycle Show from Long Beach California, update you on the Dakar Rally from Africa and interview a long distance motorcycle rally rider.



December 18, 2005 
The Podcast magazine of all things motorcycling. Interviews, travel stories and tips, motorcycle and accessory reviews, maintainence and performance tips. The best 30 minutes you can spend without twisting the throttle!!